The Covid-19 pandemic has been perhaps one of the most challenging times in history for students, educators, schools, and society as a whole. Students have faced disruption after disruption since early 2020, when stay-at-home orders and lockdowns began. According to research by McKinsey et al. (2021), on average, grades K-12 were four to five months behind academically, in comparison with their peers in prior years. Socioeconomic disadvantages have added to the stress and learning loss. But perhaps the most profound area of loss in education has proven to be not primarily in academic subjects but rather the social and emotional learning crucial to healthy child development.
How the pandemic has put students at risk for learning loss
Learning loss can be defined as a reversal or slowing down of academic progress. According to a recent Stanford University research report, learning loss is expected to become severe as schools reopen, especially for younger and low-income students. Many students have already had to deal with hardships at home during the pandemic, such as illness or death of family members due to Covid-19 and ongoing economic difficulties. Children have had more to cope with on a daily basis, making adjustment harder to achieve. There is a clear connection between student mental health and academic performance; when students have to deal with family hardships outside of school, their academic performance suffers as a result.
Maslow's Hierarchy of Needs provides a framework for understanding the barriers students are facing at home during the Covid-19 pandemic: students' basic needs, including mental health, social support, shelter, and student safety, must be addressed first, before higher-level learning such as self-esteem and personal growth can be achieved.
How to recover from learning loss
Research has shown that there are ways to address the learning loss that has occurred due to the pandemic. For example, strategies such as frequent tutoring, one-on-one or in small groups multiple times a week, can help students make up for the academic gaps suffered during this challenging time. But how can schools make up for other losses in student development? The answer is Social and Emotional Learning (SEL).
Monitoring of student mental health
To address the problem of learning loss for your school district, a comprehensive system that involves assessing student mental health may be needed. Non-academic, evidenced-based assessments can be used to measure student mental health such as the Social-Emotional Learning (SEL) framework provided by the Collaborative for Academic, Social, and Emotional Learning (CASEL), as well as that of the California School Climate, Health, and Learning Surveys.
What is SEL?
SEL, or Social and Emotional Learning, is the process by which youth and young adults learn to apply knowledge, attitudes, and skills to develop healthy identities, achieve personal goals, experience empathy for others, maintain supportive relationships and make responsible decisions. Over the past few decades, a body of evidence-based research has established core concepts, helpful models, and effective practices for fostering SEL in educational settings. And now, with the ongoing pandemic-related disruptions, it is more important than ever to implement SEL for students, whether that be in the classroom, virtually, or in person.
How can SEL be implemented?
There are various ways to integrate SEL into learning, even when done remotely. These include starting the virtual classroom by greeting your students, developing a mindfulness morning practice, discussing your students' goals, and journal writing. It also may be helpful to teach students the coping skills they need to self-regulate their emotions. Examples of coping skills teachers may utilize with students include mindfulness meditation, listening to music, and breathing exercises.
Challenges of implementing SEL
Many educators are suffering from burnout during the pandemic, and accordingly, it may be more challenging for schools to implement SEL under these circumstances. Nonetheless, the need to address students' substantial loss of key social and emotional learning experiences during the pandemic requires that every effort be made to help our students.
The bottom line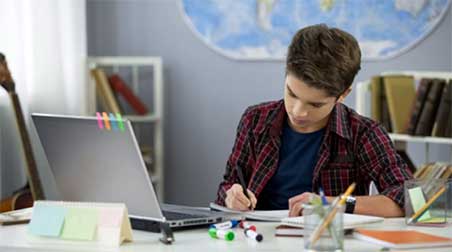 The pandemic has proven challenging for educators, students, and their families, but providing students the tools to succeed involves implementing SEL practices, whether that be in-person or virtually at home. For schools to address learning losses at academic, social, and emotional levels, surveys assessing student mental health should be undertaken. Connecting students to mental health help such as school social workers may also be needed. And furthermore, addressing the mental health of educators and staff is of critical importance to achieving a healthy learning environment that fosters student development.
Sources: