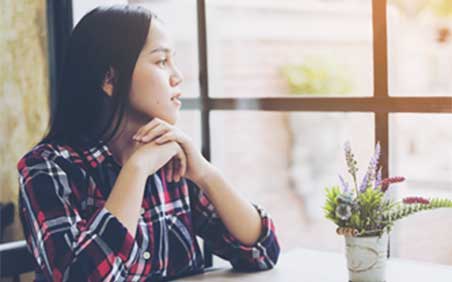 Returning to the classroom after the COVID-19 pandemic is sure to be a challenge for students, parents, teachers, social workers, and others involved in students' lives and well-being. Things are not the same as before the pandemic; everyone is going through a big adjustment.
Anxiety is at an all-time high for most high school students and their families, as they do not know what to expect when returning to the classroom after long stretches of e-learning at home. Nonetheless, by providing added support to students and families, you can improve their confidence and resilience. Read on to learn the four ways you can improve student mental health at your school.
Check in with Your Students
The pandemic has not only affected adults, but has left adolescents with a great deal of confusion and stress. Research from October 2020 reported that 31% of children's mental and emotional health had worsened due to the pandemic.
As students return to the classroom, it is essential to listen to their concerns and pay close attention to their needs. It never hurts to ask a student: "How are you doing?" Some teens may have trouble talking about their feelings, but you must ask and allow them to have an opportunity to tell you how they are feeling. Even if it is not obvious that adolescents are struggling, they still may be experiencing high levels of stress and anxiety. It may go unnoticed unless you directly ask them how they are.
Offer In-School Support
In these times, schools should be more aware than ever of student mental health. Students who have pre-existing mental health diagnoses are even more likely to be affected by the challenges of returning to the classroom. Given the ongoing disruptions students have faced, educators should expect students to have more trouble concentrating due to anxiety.
Schools should keep a lookout for the following warning signs that a student is having a mental health crisis: sudden mood changes, lashing out, lack of participation in everyday activities, irritability, seeming withdrawn, social phobia, or excessive nervousness. You must connect these students to resources such as school counsellors or social workers. Your school may need to hire more counsellors and social workers to help assist students and address their mental health concerns. Additionally, schools can implement risk-assessment tools to screen for depression and suicide risk, such as the Beck Depression Inventory, which is self-scored. Reducing the size of classes and offering small groups can help educators spot risks and offer students a checkpoint.
 Work on Social and Emotional Learning
One way to boost resilience and confidence in students during difficult times is to have teachers work on Social and Emotional Learning (SEL) with students.
A few different ways you can implement activities that teach SEL involve:
The teacher modeling empathy and reflective listening
Cooperation and teamwork through participation in student-led activities
Exercises that help students understand the significance of cultural events
Teaching conflict-resolution skills, and how to respond effectively in situations
Holding class meetings to discuss topics other than curriculum
SEL is crucial for student development. SEL exercises implemented in the classroom will improve social skills, increase positive behaviour in social situations, and decrease conduct problems such as truancy and violence between students. With these SEL practices, you will notice better academic performance, and students will suffer less emotional distress.
Engage your Kids by Teaching Them SMART Goal Setting
You can further improve the mental health of your high school students by engaging them in SMART goal setting. In this process, each student creates a plan that includes their academic and personal goals. Encouraging students to set their own goals gives them something to look forward to in their lives, especially during difficult times. The students are asked to come up with SMART Goals; in other words, those that are: Specific, Measurable, Achievable, Relevant, and Timely. To understand how you can implement SMART Goals with your adolescent students, check out this SMART Goals video provided by the ConnectU Program: https://connectuprogram.com/resources/videos/
The ConnectU Program Is Your Resource
The ConnectU Program is exactly what your school needs to be prepared for the mental health challenges faced by your students during the COVID-19 pandemic and as they return to the classroom environment.
With the support, resources, and innovative curriculum it offers, the ConnectU Program can provide your school with the solutions that school staff need to address emerging student mental health challenges. After implementing the curriculum aligned with the program, you will see definite improvements in the well-being and adaptability of your students.
With the new toolsets provided by the ConnectU Program, you will surely achieve better communication between you and the students at your school. To learn more about how you can support student mental health at your school, please visit: https://connectuprogram.com/
Sources: